Crown Roofer Architectural Paneling
Established in 2002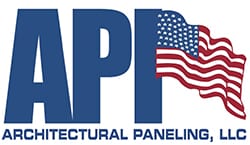 Company Information
Address
200 Menefee Street
Covington, TN 38019
Phone
901-475-2000
Email
Website
www.metalroofingsupply.biz
Architectural Paneling  (API) and Metal Roofing Supply (MRS) specialize in manufacturing, distributing and installation of metal, clay and slate tile roofing products and custom sheet metal fabrication for the construction industry.
We are a family owned business with over 25 years of experience in the roofing industry. In late 2002, Marty May, owner of API and MRS, observed that most roofing manufactures catered to the needs of the commercial roof contractor and were not responsive to the needs of the homeowners and building owners. Marty envisioned a place where homeowners and building owners could sit down with a knowledgeable roofing and sheet metal expert and have their questions answered. Thus, API and MRS was born.
API and MRS has a strong relationship with the leading roofing manufacturers. At our Covington, Tennessee showroom, customers can view our full line of metal roofing products where our friendly staff is dedicated to sharing our knowledge and helping the customer select the best product for their project.