PRIVACY NOTICE FOR CALIFORNIA RESIDENTS
Effective Date: January 1, 2020
I. Introduction
This Privacy Notice for California Residents supplements the information contained in Ludowici Roof Tile, Inc. ("we," "us," or "our") general Privacy Policy for websites and applications ("Privacy Policy") and describes our privacy practices with respect to individuals who reside in the State of California ("consumers" or "you").
This Privacy Notice does not apply to information we collect when:
You are acting as a job applicant to us;
You are acting in your capacity as a current or former employee, owner, director, officer, medical staff member, or contractor for us;
You have been designated as an emergency contact for one of the persons listed above and your information has been collected for use solely within that context; or
We need your personal information to administer benefits obtained through one of the persons listed above.
We adopt this notice to comply with the California Consumer Privacy Act of 2018, as may be amended, replaced, or superseded as well as any implementing regulations ("CCPA"). Any terms defined in the CCPA have the same meaning when used in this notice.
This Privacy Notice does not disclose our practices with respect to B2B personal information.
II. Information we collect about California consumers
See Section 2 of our Privacy Policy for the types of personal information we collect from you and Sections 4-6 and 8 of the Privacy Policy for why we collect this information. For CCPA purposes, we collect the following categories of personal information: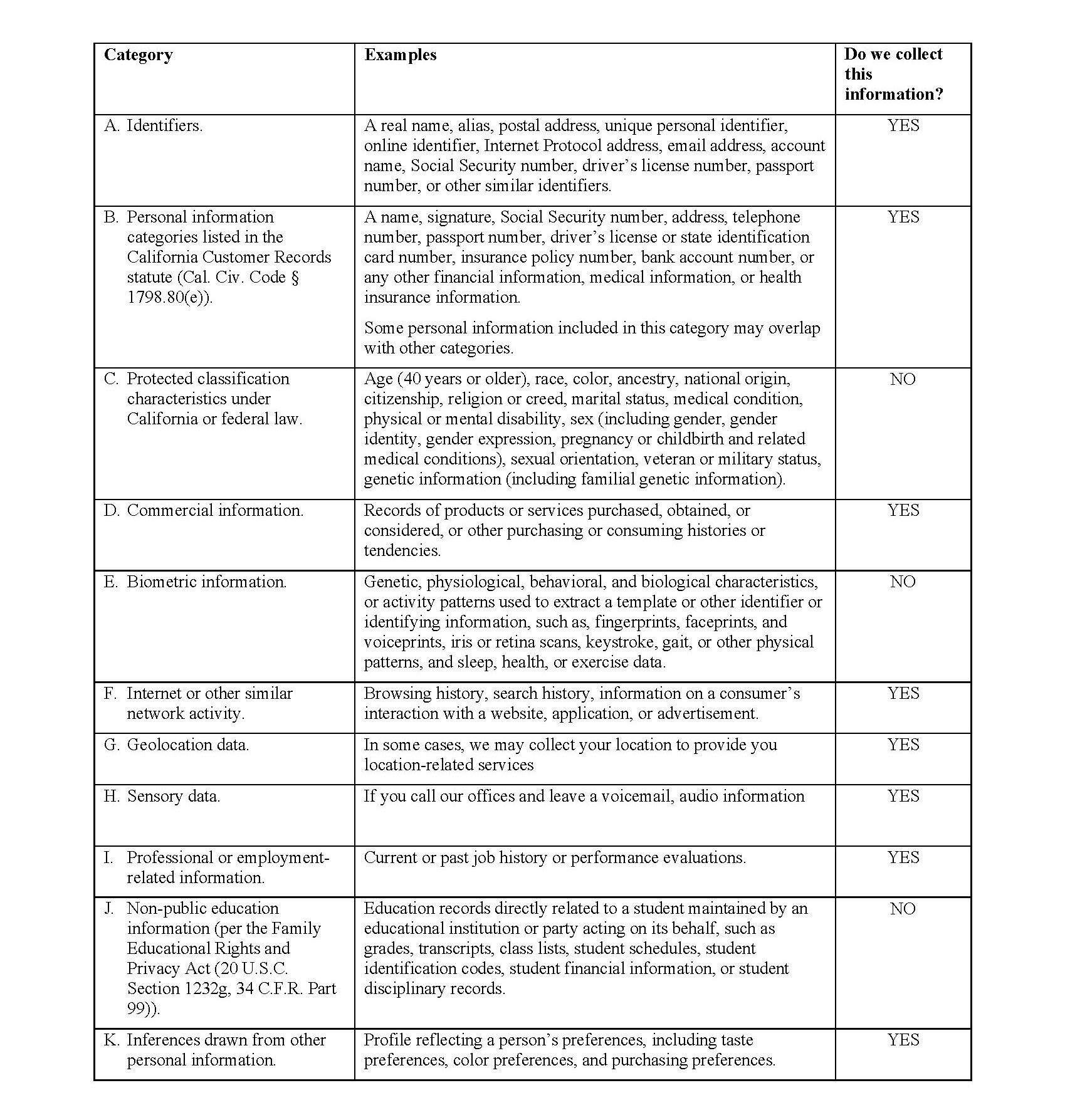 III. We do not sell your personal information

We do not, and will not, sell personal information of consumers and have not sold any such personal information within the last twelve (12) months.
IV. Notice of personal information that we have collected or disclosed in the last 12 months
For each of the categories of information we collected, as noted in Article II above, we shared this personal information with the following categories of third parties:
Service providers and vendors
Taxing entities
Insurance companies
Legal counsel
Our parent and affiliated companies who directly support our activities
V. Your Rights and Choices
A. Access to Specific Information and Data Portability Rights
You have the right to request that we disclose certain information to you about our collection, use, disclosure, and sale of your personal information over the past 12 months. Note that our Privacy Policy and this Privacy Notice are intended to already provide you that information. Even so, if you wish to exercise this right, see Exercising Access, Data Portability, and Deletion Rights below).
B. Deletion Request Rights
You have the right to request that we delete any of your personal information that we collected from you and retained, subject to certain exceptions. Once we receive and confirm your verifiable consumer request (see Exercising Access, Data Portability, and Deletion Rights below), we will delete (and direct our service providers to delete) your personal information from our records, unless an exception applies.
C. Exercising Access, Data Portability, and Deletion Rights
1.) How to submit requests: To exercise the access, data portability, and deletion rights described above, please submit a verifiable consumer request to us by either:
Calling us at (800) 945-8453. Please let the person answering the telephone know that you are calling about your California consumer privacy rights.
Completing the California Request Form and emailing it to us at: [email protected]. If you email us, please insert "CCPA REQUEST" into the subject line of your email.
2.) Who may submit requests – Only you, or someone legally authorized to act on your behalf, may make a verifiable consumer request related to your personal information. You may also make a verifiable consumer request on behalf of your minor child. You may designate an authorized agent to make a request on your behalf by registering such person or entity with the California Secretary of State.
3.) How often you can submit requests – You may only make a verifiable consumer request for access or data portability twice within a 12-month period.
4.) How we verify and respond to requests – Your request must be verifiable. The request must:
Provide sufficient information that allows us to reasonably verify you are the person about whom we collected personal information or an authorized representative, which may include requiring you to provide us at least two data points, depending on the type of personal information you are requesting to know or are requesting to be deleted.
Describe your request with enough detail that allows us to properly understand, evaluate and respond to it.
Note that we will only use personal information provided in a verifiable consumer request to verify the requestor's identity or authority to make the request.

5.) Response Timing and Format – We endeavor to respond to a verifiable consumer request within forty-five (45) days of its receipt. If we require more time, we will inform you of the reason and extension period in writing within forty-five (45) days of receiving your verifiable consumer request. We will deliver our written response by mail or electronically, at your option. We do not charge a fee to process or respond to your verifiable consumer request unless it is excessive, repetitive, or manifestly unfounded. If we determine that the request warrants a fee, we will tell you why we made that decision and provide you with a cost estimate before completing your request.

VI. Non-Discrimination
We will not discriminate against you for exercising any of your CCPA rights.
VII. Other California Privacy Rights
California's "Shine the Light" law (Civil Code Section § 1798.83) permits users of our Websites that are California residents to request certain information regarding our disclosure of personal information to third parties for their direct marketing purposes. At this time, we do not engage in this type of disclosure.
VIII. Who to contact for more information?
For questions or concerns about our Privacy Policy, this Privacy Notice or our practices, you can contact us as provided in Section 14 of our Privacy Policy.
_______________________
LAST UPDATED: [May 2020]