Crown Roofer The Century Slate Company
Established in 1997
Company Information
Address
1310 East Cornwallis Road
Durham, NC 27713
Phone
(919) 544-8890
Email
Website
www.CenturySlate.com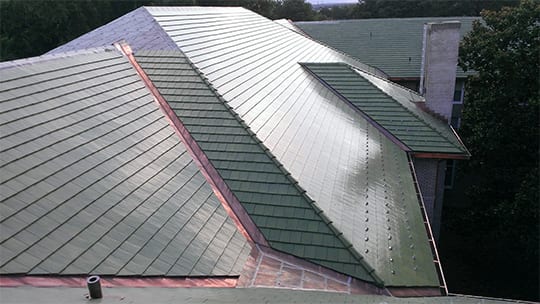 The Century Slate Company has serviced the Carolinas, Virginia and Tennessee for well over 20 years.  Century Slate maintains an Unlimited Building & Roofing GC License in NC, SC, VA, TN and LA.
Century Slate specializes in historically sensitive disciplines of the roofing trade and has completed projects for a base of clients that demand and rely on the preservation of the historic fabric of their buildings.  Nearly 100% of the roofs constructed and cared for By Century Slate are comprised of slate, copper, clay tile, zinc, terne metal, and/or wood shake/shingle.  We work exclusively with the materials listed above in historic application.  Although not every project we work on includes historic preservation, we regularly participate in projects that require attention to historic value.
The Century Slate Company has been trusted by various owners, architects, and engineers to tend to the roofing needs of such buildings as North Carolina Capitol Building (Raleigh, NC), Biltmore Estate (Asheville, NC), Cedarhyrst (Old Salem, Winston-Salem, NC), NC State Legislative Building (Raleigh, NC), Sierra Nevada Brewery (Mills River, NC), Kensington Plantation (Eastover, SC), Greensboro Historical Museum (Greensboro, NC), Southgate Hall Duke University (Durham, NC) and numerous other buildings listed on the National Register of Historic Places.  Additionally many historic properties, churches and universities have invited us to work on their oldest and most treasured buildings throughout the Southeast and Mid-Atlantic.