Crown Roofer Jenco Roofing and Custom Metals
Established in 1979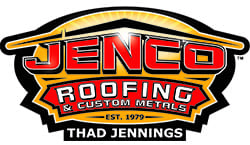 Company Information
Address
7000 NW 80th Street
Oklahoma City, OK 73123
Phone
(405) 720-9300
Email
Website
www.jencoroofing.com
In 1979, Thad Jennings began working in the Oklahoma Roofing Industry. He looked at roofing as a way that he could express his artistic ability. He takes pride in each project being unique from another. The longevity of this artistry is a legacy for Jenco Roofing.
Thad believes very strongly in the concept of "quality above quantity". The belief in that concept allows Jenco Roofing to complete approximately 300 unique Oklahoma roofing projects per year.
Thad Jennings has always preferred the more challenging roofs in architectural design including Residential, Commercial, Historical, Religious Structures and Steeples. These challenges include tile, slate and metal roofs because they stand the tests of time and weather. Steep structures are always of interest and intrigue for our entire sales team.
All of the Oklahoma Roofing crews working with Jenco Roofing and Custom Metals have long-term experience and are knowledgeable of the expectations required to execute our vision of excellence.