Crown Roofer WadeCo Construction, LLC
Established in 1992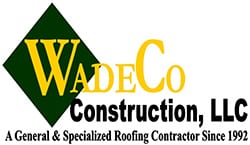 Company Information
Address
103 Forrest Street
Lafayette, LA 70501
Phone
(337) 233-2239
Website
www.WadeCoRoofing.com
Founded in 1992, WadeCo Construction is a general & specialized roofing contractor for commercial & residential projects focusing on slate, clay tile, stone, and standard architectural styles of roofing.
We are a leader in providing value-added construction services to our customers by creating a successful partnership with them throughout the construction process.  Our pledge is to establish lasting relationships with our customers by exceeding their expectations and gaining their trust through exceptional performance by every member of the construction team.
To perform for our customers the highest level of quality construction services at fair and market competitive prices.  To ensure the longevity of our company through repeat and referral business achieved by customer satisfaction in all areas including timeliness, attention to detail and service-minded attitudes.  To maintain the highest levels of professionalism, integrity, honesty and fairness in our relationships with our suppliers, subcontractors, professional associates and customers.