Green Build & Design Article Feature
Written By: Jessica Mordacq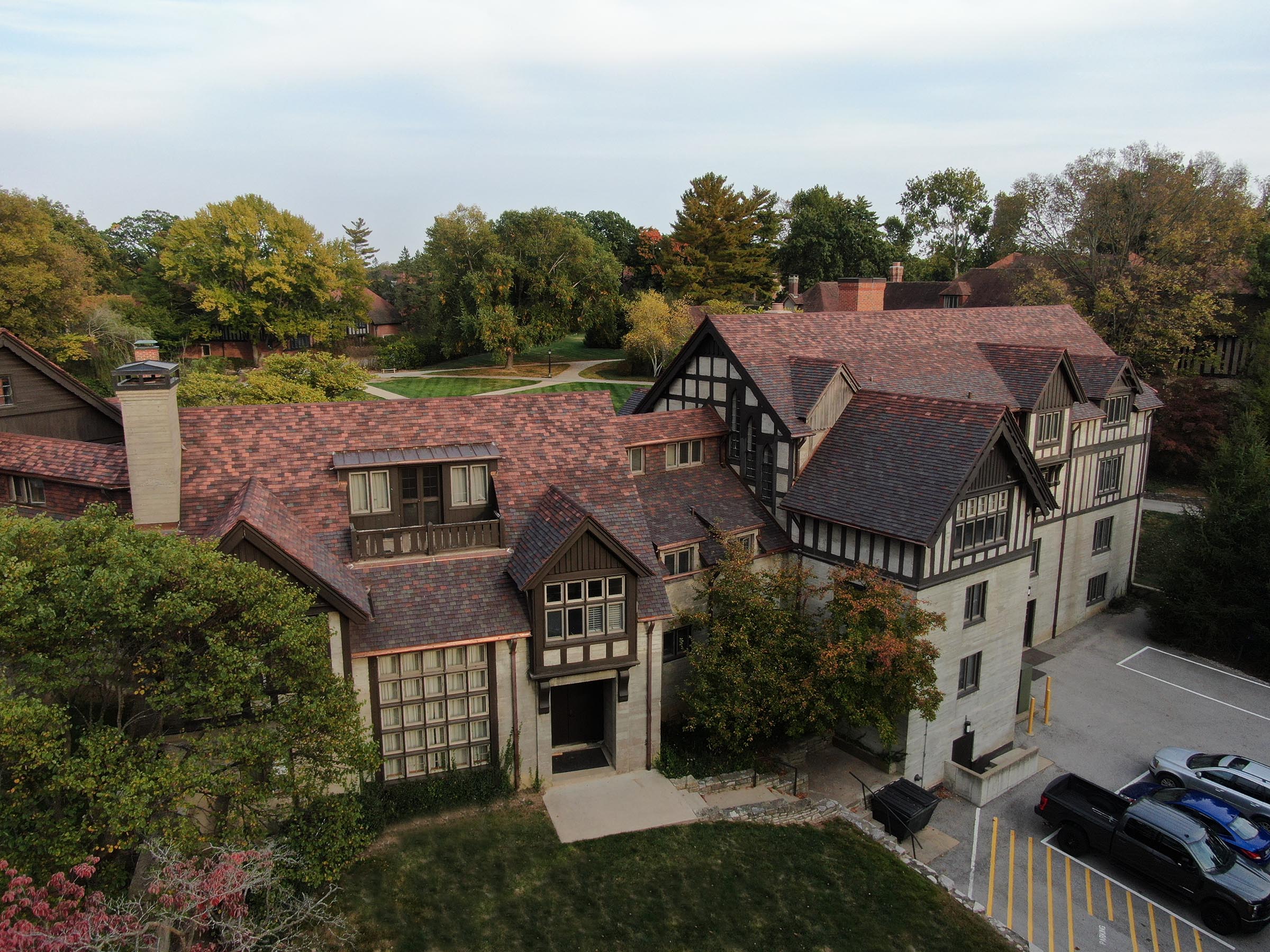 The 25 roofs on Principia College's campus in Elsah, Illinois do much more than protect students and faculty from the elements; they preserve a vision.
"It's not just a roof. It's such a part of the overall feel of the buildings. And the buildings set a tone and personality for the campus," says Tom Nickell, Principia's chief operating officer, who also graduated from the college. "This architecture and these buildings create a sense of community the way they're designed."
The late architect Bernard Maybeck designed 11 of Principia's dorms, classrooms, and the campus chapel–along with their tiled roofs–in the 1930s, creating the world's largest collection of Maybeck-designed structures.
Overlooking the Mississippi River, a portion of Principia's campus serves as a National Historic Landmark District and evokes a sense of pastoral peacefulness, Nickell says. Maybeck composed these buildings in the Tudor style, heavily influenced by small English villages constructed with concrete, stone, timber, and brick.
By the '90s, though, time had taken its toll on the original roofs. Some tiles were weathered and broken. Old World Roofing began repairing Maybeck's Principia roofs with Ludowici tile. "To get a 75-year life out of a roof is pretty good," Nickell says of Maybeck's original structures. "We're expecting that same kind of life from the Ludowici tiles now."
Ludowici's 135 years of tile expertise contributes to the reason why Principia College chose the company. They also picked Ludowici to match the original tile Maybeck used in the first place. "Ludowici can do things with clay tile that no other tile manufacturer in the world can do," says Old World Roofing's Cullen Hagerty. "Their matching ability, from today's tile to the tile of yesteryear, is unparalleled."
Because of Principia's buildings' historic significance, Nickell says Principia needed a "high-quality vendor that could provide the look and feel to keep the character of the buildings and the whole campus."
Legend has it that in the 1930s Maybeck mapped out every individual tile and color for his buildings' roofs, some of which he used upwards of 65,000 tiles on. "There are myths that none of them are exactly alike," Hagerty says. "Every building is unique. Every roof is unique."
Nickell has also heard the rumor. But such precision may have been necessary considering how Maybeck designed some of the buildings' complicated roofs—not completely flat. Many partially curve with tiles that change color both vertically and horizontally.
On Howard House, where Old World Roofing expects to complete the roof in July, roofers warped some of Ludowici's provincial shingle tiles to help them curve over the roof. Ludowici customized tiles for both the Howard House and Sylvester House residence halls, as the standard tiles Maybeck used in the '30s aren't the same as they are today.
In addition to painstaking attention to detail, Maybeck's variation in roof decks made Old World Roofing's job a little trickier. Some, like Sylvester House's, have tongue-and-groove decks, thick and easy to secure nails into, Hagerty says. Other roof decks, like that of Howard House, have lightweight concrete framed in structural steel. "There are some challenges in terms of securing—whether it be underlayment, tile, re-flashing, gutters, et cetera—new material into 100-year-old lightweight concrete decks," Hagerty says.
Color-matching the tiles was another challenge—especially for the recently completed Sylvester House, which has Ludowici's four-color Brittany shingle tile. The building won one of Ludowici's Project of the Year awards. Old World Roofing lined up every roof tile to coincide with Maybeck's original color transitions: darker at the eaves and lighter at the peak of the roof, all across numerous gables, dormers, and heights.
Hagerty says color-matching will also prove difficult at Anderson Hall, Principia's largest dorm, where Old World Roofing Co. will soon start work. Nickell says Anderson Hall's roof is one of the more iconic ones on campus. "It's a subtle reminder," he says. "It evokes the feel of the time on the campus."
After completing Anderson Hall, Old World Roofing will finish work on Principia's campus by replacing the roof on Notchcliff faculty and staff housing with Ludowici tile. This, like the rest of the buildings' new roofs, will match Maybeck's original design. "We've been entrusted, and honored, to preserve this Maybeck vision," Hagerty says.
Project Details
Project: Principia College
Location: Elsah, IL
Expected Completion: 2027
Size: 411,000 square feet
Architect: Bernard Maybeck
Installer: Old World Roofing
Distributor: Roofer's Mart